I can provide a personal funeral ceremony that reflects the beliefs, life story and character of the deceased.
A personalised funeral ceremony provides the opportunity to express sadness and grief, but if it's brings comfort, it's also a time to celebrate the life of your loved one, if you so wish.
Spiritual, secular, traditional or contemporary
Your special service can be tailored to cater for required wishes, requests and beliefs. It can be traditional or contemporary and I can create a ceremony that can be spiritual or secular (non-religious), or you may like to include a hymn, prayer or blessing. It's your choice.
Practical help in your time of need
I can guide you through the process, advise you of your choices, liaise with your Funeral Director and meet with family members to write and create a befitting funeral service with the upmost dignity and respect.
It would be a privilege to help you achieve a personal, loving ceremony.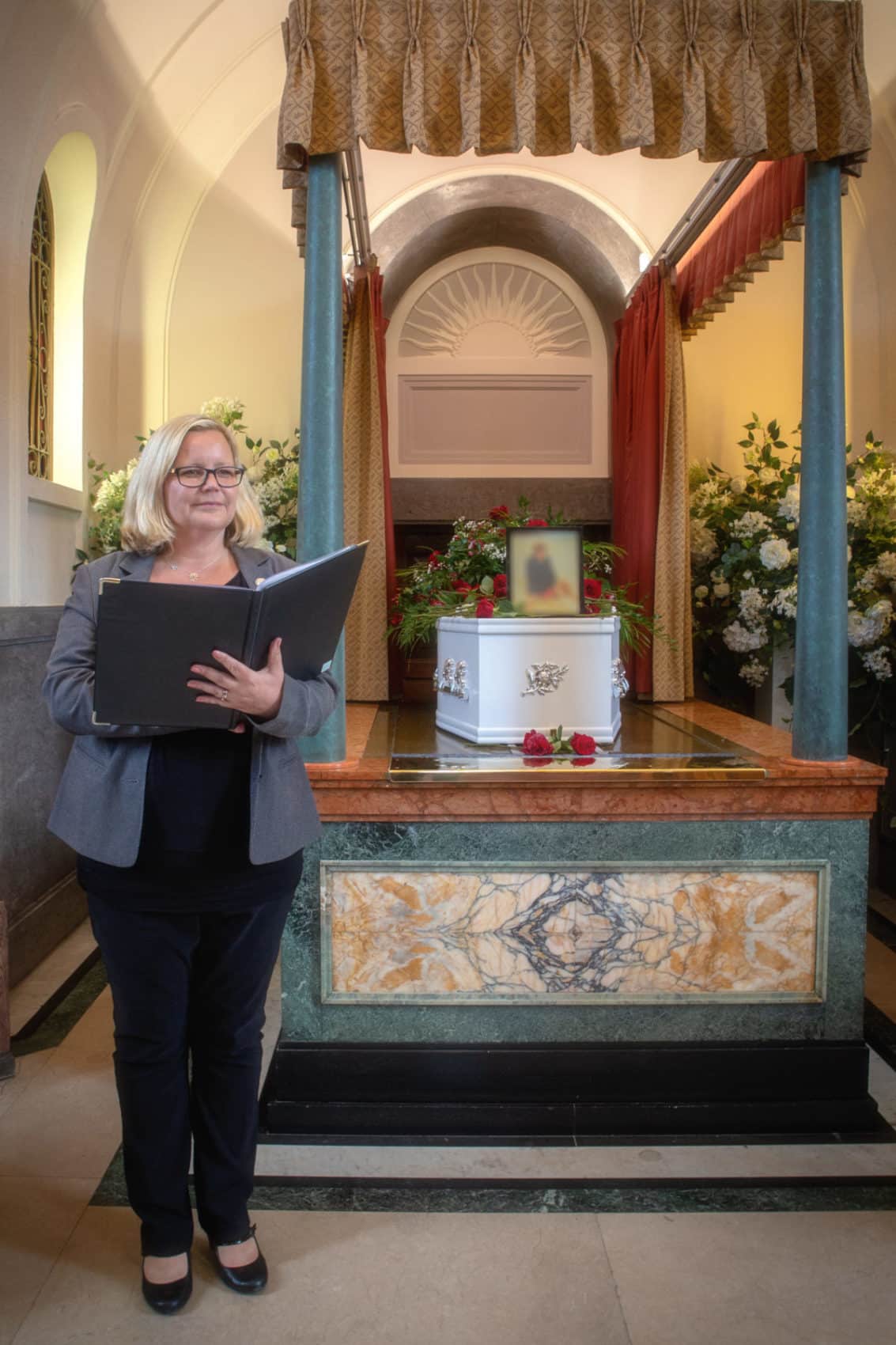 What to expect if you choose to work with me
I am based in Twickenham, and work with many local Funeral Directors but also happy to travel.
You can request my services via the funeral arranger or contact me directly. 
It really helps if we talk as early on as possible.
I am able to offer impartial guidance and help you consider ideas for the funeral before you make any commitments.
We can meet at the Funeral Care office, in your home or at a mutual location. If you prefer, or are unable to meet, all arrangements can be made via the telephone and email.
Choosing a celebrant is a very personal decision, and the best way to find out if we are the right fit is to give me a call. If you engage me to help you and your family, you can expect me to guide and enable you to create the ceremony that your loved one would want.
Funeral planning option
If you require a 'Funeral Planner', I am able to assist with co-ordinating the service, printed Orders of Service, flowers, funeral favours, the wake/celebration of life location and refreshments. This means you will be dealing with one person rather than many in organising the day. 
Direct Cremation & Memorials
Did you know you don't have to have a funeral service in a church, chapel or crematorium?
You can have a funeral/memorial service almost anywhere.
'Direct Cremation' is becoming ever more of a popular option. Sometimes this is due to cost, for some it's a matter of choice.
Make it more personal without the constraints of time or venue. I am also able to offer a full 'Funeral Planner' service.
Ashes & Memorials
Do you require a memorial service for the internment or scattering of ashes, or an anniversary?
I can help arrange this to your wishes.
I can advise on choices you have for a ceremony, ideas for your ashes, and give you helpful links for information.
Last Wishes
It is often difficult to talk to family about final wishes for a funeral.
I can talk to anyone in confidence on a practical and independent level.
Acting as an intermediary means that a loved ones wishes are noted and in place for when the difficult time comes to organise their funeral.
It's hard to adequately describe just how truly beautiful both the services for my mum and son were.
I know Mum would have absolutely loved her celebration of life. I never imagined I would be calling on you so soon after she died, but I knew instantly that there was no one else I wanted to lead Zack's service other than you.
Thank you Rebecca from the bottom of my heart for making it perfect and exactly how I had envisaged. I often read through the copies of the services you gave me, and although they were two of the hardest days of my life, reading the words brings me comfort and I can now smile.
I hope one day I will be contacting you in happier times, perhaps a wedding, but in the meantime keep doing what you do, you really are quite simply amazing! 
You told us to start new traditions after Sue died, and we have.  Not big ones but they make a difference.
So we've had a year and gone through most of the 'firsts' in our lives. She is desperately missed still. Our children continue to be awesome and more mature than I could have imagined.
We still all remember the beautiful send off that you orchestrated so wonderfully and it remains a great comfort that it was such a lovely day.
We have a bench by the river, around 20 of us went there on 'the anniversary' and our florist made up a garland to match the one on her coffin.
So, if for any reason you ever ask yourself why you do what you do – this is why ……… you've made a huge difference to us x